Periodontics Seville
Periodontics is the branch of dentistry that diagnoses and treats periodontal disease.
What is periodontal disease?
Periodontal disease is an inflammatory condition that damages the periodontium, which is the tissue that supports the teeth and which includes bone, periodontal ligament, dental root and gum.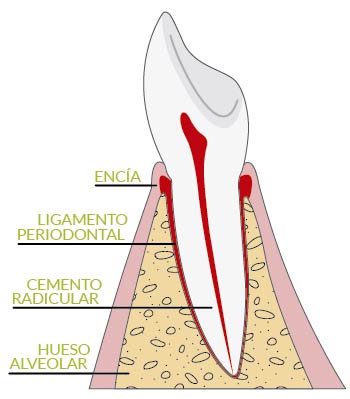 Gum – periodontal ligament – root cement – alveolar bone
The origin of periodontal disease is infectious, it is caused by bacteria.
Periodontal disease is divided in 2 main groups: gingivitis and periodontitis.
GINGIVITIS consists in an inflammation of the gum only, and the damage is reversible.
PERIDONTITIS involves gum, bone and the remaining periodontium, causing irreversible damage.  The gums appear red and there is bleeding; other warning signs are:  dental mobility, bad breath, hypersensitive teeth to cold, sensation of having long teeth and tooth loss.

Risk factors
Bacteria may affect the periodontium more or less depending on the individual susceptibility, which is determined by genetics.
Periodontal disease has been linked to several risk factors:
Stress
Tobacco
Hormonal changes (menstruation, pregnancy, etc.)
Illnesses (diabetes, virus, etc.)
Family history
The best treatment for periodontal disease is prevention and early diagnosis, as this will prevent the irreversible loss of tissues.  A daily thorough hygiene is basic to fight periodontal disease.  The dentist will assess which treatment is best for each patient. This normally involves different steps:
Oral hygiene instruction to improve it.
Removing bacterial plaque from gums and teeth.
Removing plaque from under the gums
Gum surgery, only in the most severe cases.
Periodontal maintenance
Bacteria chronically attack periodontal tissues throughout life, and it is therefore essential to carry out the oral hygiene routine that the periodontist advices (oral brush, interdental brushes, water irrigator, dental floss, etc.) and the professional follow up through periodic maintenance visits (by the periodontist or the dental hygienist).
These maintenance visits involve:
Updating the patient´s clinical history to look into habit changes, medication or pathologies that may affect periodontal disease.
Monitoring the condition of the gums by periodontal probing, and if needed, control x-rays.
Removing plaque from teeth, both above and under gums.
Planning when next appointment should be, depending on several factors such as smoking, systemic illnesses (diabetes), stress, pregnancy, current periodontal condition, etc.
Periodontal Cosmetic Surgery
Certain procedures can be carried out to improve soft tissue aesthetics when there is either gum recession or a non-harmonic smile.
Gum tissue graft
Gingivectomy
Crown lengthening
In Clínica Dental Avante all of our specialist dentists work together and can carry out any additional treatment that is required, related or not to endodontic treatments.
Paediatric dentistry
Oral Surgery