Implantes Osteointegrados en Sevilla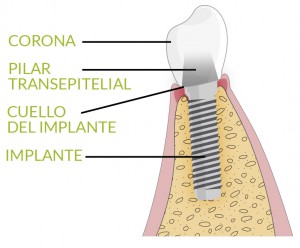 Crown – abutment – implant neck – implant
What are dental implants?
A dental implant is a screw-shaped titanium structure that is placed in the maxillary or mandibular bone to replace the root of a missing tooth.
Each implant will behave as an artificial root, and a crown or dental prosthesis will be placed above it. A restored dental implant has several parts:
Dental implant (part of the implant that is hidden in the gum)
Abutment (connecting pieces that are placed above the gum)
Crown or prosthesis (it is placed over the abutment and is visible in the mouth)
Natural appearance
Implant retained prosthesis provide natural aesthetics, practically the same as the original teeth.
Recuperating the function
Speech and mastication improve, as well as the ability to taste food, especially when compared with traditional removable dentures.
Respectful to other teeth
In patients that still preserve part of their dentition, it allows to replace the missing ones with a fixed prosthesis that does not affect or damage the other teeth (unlike fixed bridges).
A dental implant treatment has 2 main stages:
Implant placement.Surgical stage where the implants are inserted in the bone.
Implant restoration. Prosthetic stage, where moulds are taken of the implants to be able to fabricate the artificial teeth that will replace the missing ones.
Osseointegration is the interim process that occurs between placing and restoring the implants,   and it involves the healing of the bone around the implants to stabilize them inside the bone.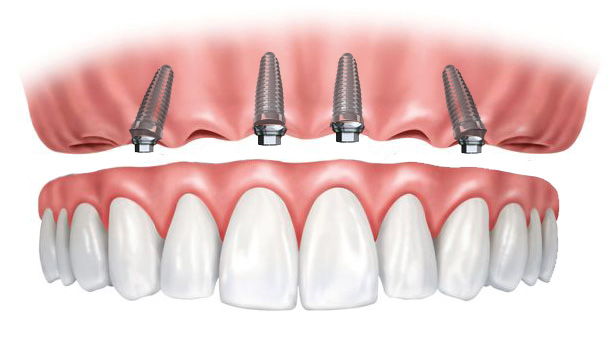 Bone Regeneration or bone graft
If the existing bone quality and quantity does not meet the required criteria for implant placement, it is necessary to recuperate the lost volume. New bone can be obtained either by external materials or from the own patient.  This procedure will be carried out before or during the implant placement depending on the case.
Healthy tooth – bone loss related to the tooth loss- guided bone regeneration – placement of the implant, abutment and crown.
Maxillary Sinus elevation
Available bone in the posterior maxilla often lacks height, and therefore it is often necessary to elevate the nearby maxillary sinus in order to not invade this cavity. This procedure can be carried out at the same time as the implant placement or months before.

Expanded sinus (insufficient space) – filled sinus (bone graft) – implants (implant placement)
One day teeth
A fixed temporary prosthesis can be placed less 24 hours after implant placement in certain cases where the anatomy, positioning and other factors are favourable.
Advanced planning tools
In Clínica Dental Avante all implant placement surgeries are planned using CAT (computerized tomography).  There is a 3-D planning program available.  All this allows us to do guided surgery using a computer designed customized splint which eliminates the need for surgical stitches after implant placement.