Orthodontics in Seville
With Dr. José María Barrera Mora
What is Orthodontics?
Orthodontics is the speciality within dentistry that studies, prevents and corrects the alterations in the development, the dental arch shape and the maxillary bones interrelation, in order to restore the morphological and functional balance of both mouth and face, which also improves facial aesthetics.
Orthodontics, a speciality.
The general population sometimes only focuses in achieving straight teeth, and forgets about the physiological basic concepts and functional objectives of orthodontics, as well as its nature and its importance within general health.
Orthodontics, much more than just moving teeth.
Orthodontic treatments will face issues that are much more important that simple changing the position of teeth, such as correcting the alterations in the maxilla and the mandible as well as the face, and even more, mastication functional disorders.
When to begin the treatment
The type of problem and its severity will determine when to start treating the occlusal problem.  It is therefore advisable to visit the orthodontics as soon as an anomaly is discovered.  It is advisable to take children to the orthodontist for a check-up at the age of 6 years old, even if we do not think there is a problem.
Orthodontics treatments are normally associated with teenagers, but, as you will find out, even if the treatment does not start at an early age, it is important to monitor the child´s development to provide them with the best possible oral health.
METALLIC BRACES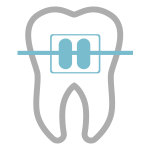 Theses brackets are the most commonly used, as they offer good resistance and efficient orthodontic treatments.
CERAMIC BRACKETS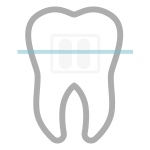 These brackets are of similar colour to the teeth and therefore limit the aesthetic impact compared to metallic brackets